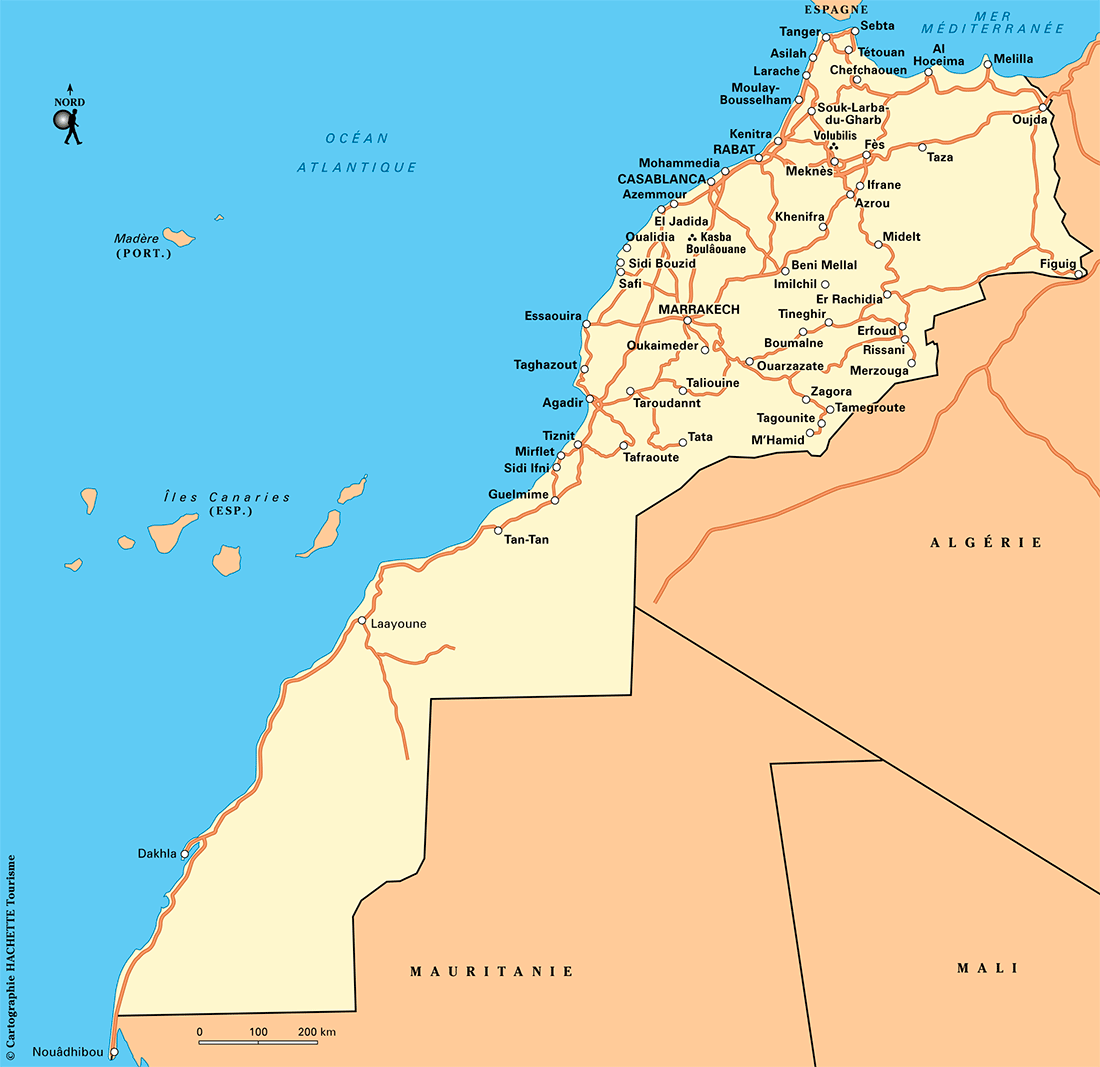 ABOUT MOROCCO
Morocco's economy is very dependent upon tourism and continues to be a favourite holiday destination for Europeans (3rd favourite for the French), and in Marrakesh, over 17,000 foreigners are registered (2007) home-owners. Recent reforms have been put in place to ensure the visitors experience in Morocco is as carefree as possible. All guides must be registered and trained. Tourist Police work in every major city. Compared to Europe crime is commonly petty thievery on trains and buses.The political situation is stable and progressing with modern democratic reforms. With strong diplomatic and trade associations in Europe, especially France – and increasingly the USA and Japan, positive change and growth is in the future for Morocco. Moroccans practice a moderate and tolerant form of Islam.Moroccans welcome all visitors, the culture is renowned for it's hospitality. Hassling to buy tends to be a problem and Moroccans are experts in talking you out of your money using charm and perhaps a glass of mint tea. The best way to let them know you do not want anything is to avoid looking at the wares for sale and simply walk away even if the person is blocking your way. A bit of humour here can go a long way!For health and food related safety, please visit About Morocco.
From the city of Marrakech where anything goes, to the Sahara village where women dress in black with one eye showing from behind a veil, Morocco is a country of many contrasts. Foreign women travel quite safely but will attract attention everywhere most often to buy something or be offered a "service" (especially in the big cities, take that offer as you may!). As Muslims, men should not touch a woman he doesn't know. If a foreign women wants respect she should not tolerate his long handshake or his lingering hand on her arm or anywhere else. Dress as you do at home but conservatively to gain respect. Foreigners are treated with the duality of wonderful hospitality or as a chance for financial gain. The invitation to visit and have tea or dine with a family is a memorable experience. But measure invitations with obligation. Traditions are strong and old ways are practised. A good attitude and a sense of sharing and humour go a long way to breaking down preconceptions of foreigners and is always appreciated by Moroccans.

For more about cultural difference

Travelling in a foreign culture and developing country such as Morocco can be a delightfully rewarding and challenging experience. African cultures have much to teach those of us who come from the modern world offering opportunities to combine enjoyment and understanding with learning new and ancient ways of living and survival. Romantic meanderings aside, Moroccans work very hard to make visitors feel welcome and provide what you need but patience and understanding is needed as well. It is a developing country and modern amenities are still being built or are non existent in many places outside the city. Sometimes visitor's expectations are not understood by a culture that has little or no direct experience of them so instead, you might receive an interpretation of your request with interesting consequences. Life moves a lot slower than what Westerners are used to, and this must be taken into consideration when something is taking too much time. Life is slow by nature and things do get done eventually. It's best to approach Morocco with an appreciation of cultural differences, sounds, smells, language, expression, light, relaxing, enjoying and accepting. Remember laughter speaks the same language everywhere. Browse our custom made private and 4×4 off-road desert tours.

We recommend hiring a genuine human guide for a few hours to allow yourself to become comfortable with the culture. After a day or so in Morocco you'll be an old hand at getting around. You might pay 400 dirhams or more per 4 hour tour, 100 dirhams per hour for a local guide. Otherwise many people love to find their own way since Morocco is fun to explore, and Morocco Explored encourages this. We recommend bringing a good guide book like Rough Guide, National Geographic, Cadogan, or Time Out for accuracy, good advice, great maps and cultural details. Lonely Planet is ever popular but reports from our clients unfortunately claim it tends to be misleading.

Travel insurance should be obtained before leaving your country of origin. We never force anyone to purchase it however. Local hospitals have limited diagnostic capability. Foreign clinics can be expensive, evacuation can cost thousands, luggage can disappear, so insurance is a good idea. We recommend World Nomads for good deals and excellent service for medical and personal property insurance while travelling.

You can relax and wear whatever is familiar and comfortable on the street at home. Morocco is very tolerant and welcoming to visitors, you're not expected to act or look like a Moroccan. Longer shorts and shirts are fine for men. For women it's a good idea to bring a scarf to cover bare shoulders and arms in rural villages. Shorts are not acceptable for women unless below knee length. Rural people will be visibly embarrassed if you choose to dress with skin showing, and react with a muffled laugh or cover their eyes. In their view, you're walking around in your underwear. City dwellers often dress as we do.
MOROCCO WEATHER
Morocco weather and forecast : Morocco offers the guaranty of excellent quality sunshine for most of the year. The spring is particularly warm and pleasant. In spring temperatures are around 23-26 °C in Agadir and Marrakech. The trees are in bloom and the mountain peaks still have snow on them… making for fantastic photos
The hot summer temperatures are kept in check on the coast by the sea breeze. On the far side of the upper Atlas mountains, the south of the country experiences high temperatures (38 °C on average). Take advantage of the cool and the exquisite climate of the mountains in summer. For example, as in the Ifrane valley (at 1 650m altitude) with its pastures, woodlands and waterfalls. In Morocco, a suitable climate is never far away, no matter the season!
The Atlantic and Mediterranean climate provides mild temperatures all year round on the coasts. On the uplands, winter is cold and damp. That is why you can go skiing in the mid-range Atlas mountains which are covered in snow, at the same time that others are swimming in Agadir!
This is the season for rest: nights are longer and temperatures fall inland. The winter rains have not yet arrived and it is still pleasant to swim in the sea
Moroccan food :

A Moroccan meal is an experience which requires all the senses. The friendly atmosphere is complemented by the scents of saffron, cumin and coriander. And every region will reveal to you its specialties, traditions and its welcome.
Of course you will taste the international star: couscous, or rather a whole range of couscous, for there are many depending on the time of year and the region. You will taste a subtle balance between spices and the rich combinations of meat and vegetables. You will savor the jewel of Moroccan cuisine: the pastilla. A delicate pie which wonderfully combines finely chopped pigeon, parsley, hard-boiled egg, almonds and honey. And then sprinkled with cinnamon and sugar. A real feast for the senses! You will also find this dedication to pastry in chicken or beef briouats. You will discover soup including harira, with a base of lentils and chick-peas. And how could you resist the pleasures of the tajine? This meat, chicken or fish stew, accompanied by vegetables and fruits, is traditionally cooked in a covered terracotta dish which has given it its name.

And finally, Moroccan patisseries: pancakes with honey and sesame seeds, cakes made with almonds or raisins, etc. And accompanied, of course, by traditional mint tea…
FAQ
What is the best way to take money to Morocco?
The Moroccan currency is the Dirham and cannot be imported or exported, as it is a 'closed' currency. We suggest you take your personal spending money in good condition notes, either in £, Euros or US$. Local costs - it depends! - £2-4 per day to cover postcards, small souvenirs, soft drinks etc; £15 a day for food is fine (if it's not included).
What kind of clothing is best in a Muslim country?
You are visiting a predominantly Muslim country, therefore you should dress modestly at all times when visiting cultural sites, and there may also be times when you are asked to 'cover up'. During your trip the tour leader will always advise you on appropriate dress for each day's activities.
If you are asked to 'cover up', you'll need to cover your shoulders, arms and legs. We recommend packing lightweight trousers or a long skirt, and a long sleeved shirt. Women may also be required to cover their hair with a scarf if entering a mosque or religious quarters.
Will Ramadan affect my trip?
Please note that the holy month of Ramadan is a time when followers of Islam do not eat or drink between sunrise and sunset. This can sometimes affect the opening hours of certain tourist sites. However we will ensure that that the itinerary is affected as little as possible if you travel during this period. Food and drink is available to tourists during the day.
Touring Maroc staff - expertise on hand to help
All the staff at TouringMaroc share a passion for adventure travel, and are always happy to answer any questions you may have. You can find an expert for the area you are interested in here and can contact them to get further information., please email marocdeserttours@gmail.com and they will get the answers you need!
LANGUAGE
The language used in Moroccan schools, government services and the media (Newspapers,TV,Radio) is classical Arabic, though the language which is spoken daily is dialectal Arabic. Berber is mainly spoken in the Rif, Atlas and Souss regions. Most Moroccans speak French language, and some speak Spanish (mostly north Morocco) or English.
POPULATION 2,993,000
REQUIRED TRAVEL DOCUMENTS
To enter the Moroccan territory , you must have a valid passport . Be aware that Moroccan law prohibits the import or export of the dirham (MAD=Moroccan Dirham =Moroccan currency).
RELIGION
Islam (Sunni) is the official state religion. Christians and Jews form a minority. You can read more about Islam here.
CURRENCY
The Moroccan currency is the Dirham (MAD), which consists of 100 Centimes and is only available in Morocco. Money can be exchanged in banks and in accredited establishments. Once the transaction is complete, you will be given a slip which you will be asked to present at the end of your stay if you wish to convert your left over Dirhams into your own currency. ATM machines in the cities accept all interna tional credit cards. Banks are open Monday to Friday from 8:15am to 11:30am and from 2:15pm to 4:00pm in winter, from 8:00am to 11:30am and 3:00pm to 5:00pm in summer, and from 9:30am to 2:00pm during Ramadan. Larger hotels, restaurants, shops and even certain stalls in the souks also accept credit cards. ou can check the exchange rate for your desired currency.
HELATH
No particular vaccine is required. Avoid drinking tap water and the water sold by itinerant sellers. Opt for mineral water: Sidi Harazem, Imouzzer, Sidi Ali and Oulmès spring waters are sold in bottles.Find out more information before swimming in wadis. Do not forget tablets for your stomach if it is delicate, and take precautions against insect bites and the sun. No vaccination certificate is required.
ELECTRICITY
Voltage of 220 V in new buildings, 110 V in old ones, sometimes both.
TAXES
Tipping, or a baksheesh, is a widely established custom in the tradition of the country. For some, it is the only source of revenue. According to custom, it is better to leave smaller sums, but often. Calculate between 10 and 15% of the total in restaurants if the service isn't included, 10% for taxis, between 5 to 10 dirhams (less than a pound) for the valet at the hotel, and the same amount for luggage. When you leave the hotel you will be asked to pay a mini-tax, which will be added to a fund for the promotion of tourism.
CULTURE
Islam sets the pace of the day with its five calls to prayer. This is done by the muezzin from the minaret. The Moroccans fast and abstain from drinking, smoking and sexual relations from sunrise to sunset during the month of Ramadan. Religious life in Morocco strictly adheres to the Muslim calendar: the Hegira, the day Mohammed left Mecca for Medina, marks year I. The Hegiran year has twelve lunar months of 29-30 days and is therefore shorter than the solar year by an average of eleven to twelve days.
FLIGHTS
Morocco has three main international airports: Casablanca, Tangier and Agadir. You can also fly direct to Fes, Marrakech and Oujda from Paris, Amsterdam, Berlin and other European cities. Most long distance flights will arrive in Casablanca. It's a modern airport with plenty of transport options to take you in to the center of town or to other destinations in Morocco. You can take a train to the city center or grande taxi (about 250 Dirhams).
Most major European airlines fly to into Morocco including British Airways, Lufthansa, KLM, Air France, Alitalia, Sabena and Swissair. There are also several budget and charter airlines operating from Europe to Morocco including Atlas Blue North Africa's first low cost airline.